"One of our partnerships is with Rocklink, who collects magnets in Europe. They are collecting from 70 partners, approximately, and that generates approximately 16 tonnes per year. They are a great example of the chicken-egg problem and how things can snowball. If nobody tells them to collect the magnets, then nobody them and it all goes to scrap. We see more and more suppliers joining our partnerships. We have companies like Jobmasters from here in Canada, just outside of Toronto, who recently joined us in this initiative to collect more magnets. They represent hundreds of clients — each one of those clients wants to collect rare earth magnets. Everybody's striving towards a zero waste policy, which means they want to return whatever they don't use or send scrap back to the manufacturer. That manufacturer or distributor wants to send it back to a recycling plant and that's where we come in."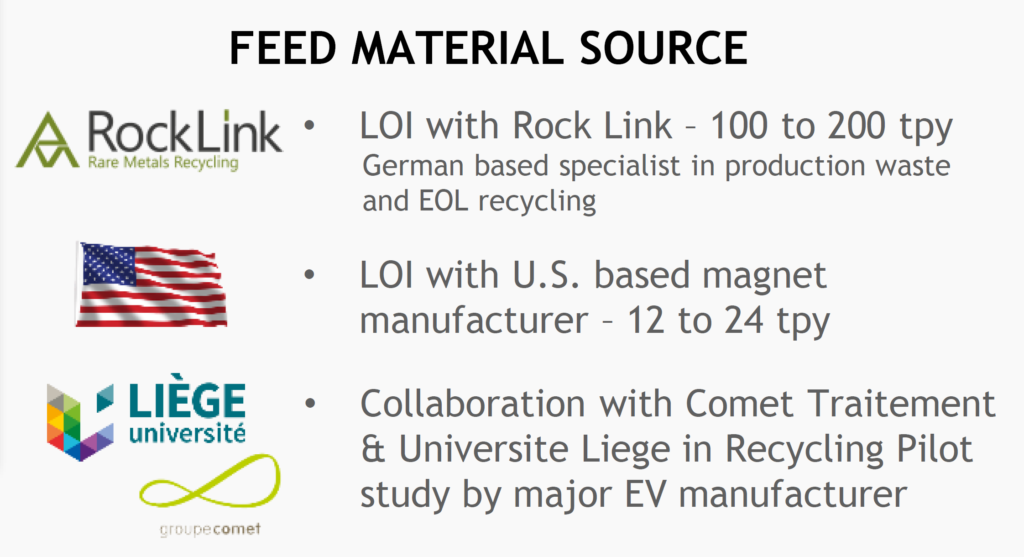 February 24, 2020
Kiril Mugerman, "Jobmaster Magnets is one of the largest and oldest Canadian magnet suppliers with over 35 years' experience in the industry. They serve various industries including the automotive and manufacturing sectors, both major users of magnets. Jobmaster Magnets' clients, in Canada and abroad, will be able to benefit from having their magnets recycled in a clean and sustainable way right here in Canada while preserving this critical resource from going to the land fills. 
February 28, 2019
Kiril Mugerman, "Innord is excited to begin working with Rocklink, a leader in procurement, recycling and trade of rare earths, cobalt and other minor metals from production residues and end-of-life scraps. Their extensive network and knowledge of the end-of-life market, especially in Europe, is second to none." 
November 26, 2018
Innord has entered into a collaboration agreement with University of Liege who is conducting work with Comet Traitements SA as part of a pilot study on hybrid and electric vehicle recycling on behalf of a major vehicle manufacturer. Within the scope  of  this  collaboration,  Innord  will  be  conducting  separation  testing  on  rare  earth  element concentrates produced by University of Liege from magnets contained in hybrid and electric vehicles which are recovered through the pilot study. Participating in this study opens the door for a potential new supply source through recycling electric motors from the transportation industry in the future.